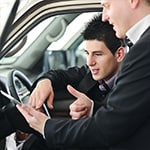 Just like yourself, the members of our Midlothian, VA Jaguar Richmond team test drive vehicles to assess their handling, precision, power, and efficiency. Test drives entail many more factors worth noting. What factors? The list is long, so we selected a few for your info.
Easy In and Out
Can you get into and out of the vehicle easily? Its silhouette, size, and layout should support easy boarding and deboarding. Once inside the vehicle, assess driving and seating positions. How does it feel in the driver's seat? How does it feel in the back seat? If you require, check for lumbar support and seat position adjustability. Take your time.
Visibility
Whether looking at the world through the car window or examining what's arrayed on the dash, visibility is a must. Your test drive model should offer big, wide undisturbed views in all directions. The width and accessibility of these views change according to the thickness and placement of a vehicle's safety pillars. Lastly, review the gauges and controls. Are they large enough, visible, and customizable? If you're not sure about anything, ask many specific questions.