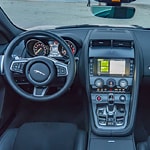 The F-TYPE Jaguar is equipped with Jaguar's most thrilling petrol engine of all, and this engine has all the innovative technology features needed to improve fuel consumption and CO2 emissions. All of this with no compromising on its performance. Driving this Jaguar will take your breath away. Active Sports Exhaust system is available on all models including Jaguar's 575PS V8 and the 300PS 4-cylinder vehicles.
We Jaguar Richmond like to say that the shortest distance between two destinations is a straight line. However, there is not much fun in traveling straight to your destination. The agility of the Jaguar F-TYPE, with its responsive steering and taut suspension is a combination that brings the thrill back into driving.
The Jaguar even allows you to personalize the driving characteristics to your own personal preferences, and driving conditions. You can adjust the throttle response, transmission map and steering weight for a customized driving experience.