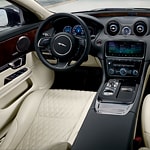 Perhaps no other sedan on the road combines power and luxury than does the Jaguar XJ. The Jaguar XJ is one of the most popular, well-appointed luxury sedans on the market today. The exterior features are a main reason why the Jaguar XJ consistently is celebrated among motorists and industry observers alike.
Among the well-regarded exterior features on the Jaguar XJ is its overall teardrop shape. This design, stylish and iconic is also highly aerodynamic. This enhances overall fuel efficiency while lowering CO2 emissions simultaneously. The exterior of the Jaguar XJ also includes unique, compelling bumper treatments. For example, the front bumper features includes chrome intake air bezels.
If you want to take a test drive of the Jaguar XJ, visit us at Jaguar Land Rover Richmond. We are located conveniently in Midlothian. By taking a test drive, you have the ability to see the Jaguar XJ up close and in action.