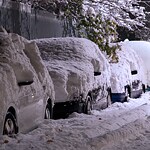 Winter weather might turn treacherous on a proverbial dime. Drivers could find themselves dealing with tough conditions, which highlights the importance of preparedness. Have you checked the tires' air pressure and your oil and coolant levels? Maybe it is time to visit a local service station for assistance, as new fluid and motor oil could be necessary.
Putting winter tires on the vehicle may help with improving traction. The special tires come with a tread design intended for icy and snowy conditions. Getting a spare winter tire might be a good idea, along with putting winter windshield wiper blades on the vehicle.
Driving with an old and dying battery could lead to troubles. Getting the battery checked and, if necessary. Who wants to see a car stall from a dead battery.
The technicians at Jaguar Land Rover Richmond could point out other winter care steps. Our Midlothian team also performs a variety of car care maintenance requests.