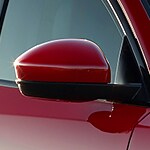 The Jaguar E-Pace is perhaps the vehicle that you need now more than ever. People love to get into a vehicle that they know that they will love. This is one that shows it completely on the outside. From the deep tinted glass to the clearcoat paint, this beauty stands out as a glimmering example of what a true performance vehicle can look like.
Take a look at the power liftgate rear cargo access as a nice perk to owning the Jaguar E-Pace. The little things like this make all the difference when it comes to selecting which kind of vehicle you should own next. A Jaguar is the perfect choice for those who want to show off their style while at the same time keeping things incredibly comfortable for you as you drive around. It is the perfect testament to engineering a luxury vehicle to the very best quality.
Experience the Jaguar E-PACE for yourself at Jaguar Richmond in Midlothian, VA.