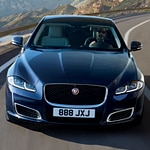 The Jaguar XJ is a luxury sedan with finesse and power, leading you wherever you need to go with the smoothness of a standard V6 or a supercharged V8 engine—your choice. Love a customized look? Choose from a plethora of either clear coat or metallic colors, like Farallon black, Corris gray, or Loire blue. As for speed, both versions of the Jaguar XJ were clocked at 0 to 60 in less than 5 seconds.
The Jaguar brand has a signature classiness that comes through in the exterior. The Jaguar XJ is no exception with features like side sills, smooth rear spoiler, and black mesh grille. The floating roofline and wrap windshield give the car an overall seamless look while alluding to the spacious comfort of the interior.
Could the Jaguar XJ be the perfect sedan for all your driving needs? It could be. Come down for a test drive at Jaguar Richmond in Midlothian, VA.