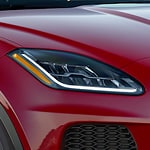 The Jaguar name has long connected itself to impressive luxury vehicles. Today, the Jaguar brand extends itself to other models. The Jaguar E-PACE captivates attention as the manufacturer's stylish performance SUV. The compact model isn't small on looks. The exterior design is a marvel to behold.
At first glance, the E-PACE stands out thanks to the artistry of its honeycomb mesh grille. The designers didn't take shortcuts when crafting the grille, and their skills show. So do the impressive LED headlights. The lights weave into the grille's design artistically. Not only can you see the road thanks to the lights, but you'll also see you own a brilliant-looking SUV, too. Often, people look at the panoramic glass roof from an interior perspective. Don't shake off the exterior styling benefit. An open roof is hard for onlookers to miss, and it adds a sense of upscale style to the SUV.
The Jaguar E-PACE can also add some style to your life in Midlothian, VA. Visit Jaguar Richmond, and let us help you with a test drive.