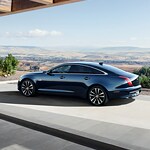 Popular for its glossy, seamless look and interior comforts, the Jaguar XJ is available in two innovative styles, both of which are sporty, speedy, and perfect for getting you from A to B safely and securely. You can choose between a V6 standard or a supercharged V8, and both are available in a plethora of colors, such as British racing green, Loire blue, and Carpathian gray.
Exterior-wise, the Jaguar XJ is an instant classic with a rear spoiler, floating roofline, wrap windshield, and side sills. The black mesh grille and signature Jaguar emblem ties it all together. As for exterior safety features, the LED headlights are automated and adaptive, allowing you to see the roads, bright and clear, wherever you go.
Considering this sedan for yourself? Take a proper look and a test drive of the Jaguar XJ when you visit us at Jaguar Richmond in Midlothian, VA. We look forward to seeing you soon.